CASE STUDY - Season Announcement Video
Pittsburgh Public Theater had announced the first three shows of its 2023/2024 season prior to its annual fundraising gala, and needed a way to creatively introduce the shows, drive donations and new subscriptions, and build excitement around what leaders in the industry are calling the Playwrights' Era. Christie pitched and produced a multi-part video project that served as both a Year In Review and a season announcement.
The project included animation, archival production footage, interview footage, and footage from four separate recording sessions in Seattle, Pittsburgh, and New York City. Christie hired and coordinated freelance videographer teams in all three cities to conduct one-on-one interviews, creative directed the project, budgeted it, and oversaw the delivery of the footage to key stakeholders and event producers. She is proud of the work and grateful to the talented folks who contributed.
Video commissioned and produced by Christie Snyder. Footage of Alec Silberblatt by Dan Halperin. Footage of Sara Porkalob by Kit McGurn. Footage of Jenny Koons by Dan Halperin. Footage of Mark Clayton Southers by Dustin Wickett. Edited by Dustin Wickett.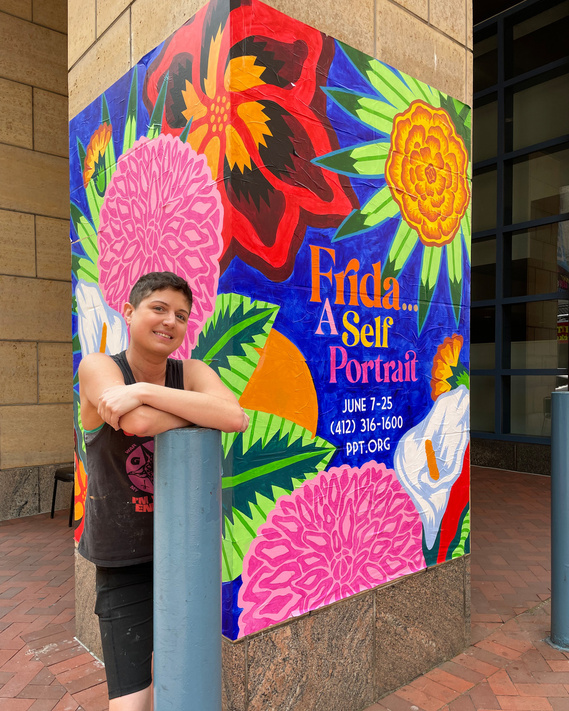 CASE STUDY - Mural as outdoor advertising
The O'Reilly Theater in Downtown Pittsburgh has a beautiful stone facade that is usually empty. To promote FRIDA... A SELF PORTRAIT at Pittsburgh Public Theater, Christie pitched and commissioned a mural installation by local Hispanic artist Lizzee Solomon, whose work is featured at several local restaurants and galleries. Christie worked with the building owners and engineers at Pittsburgh Cultural Trust to approve the use of biodegradable wheat paste to install this temporary mural, which helped capitalize on summertime foot traffic in the heart of the Cultural District surrounding the Three Rivers Arts Festival.
To see more of Lizzee Solomon's work, visit www.lizzeesolomon.com